On the road to normality! As the lockdown restrictions to curb the Covid-19 pandemic begin to lift gradually across Europe, La Dona Fruit has boots on the ground once more. Marine and Valentino from our dedicated sales team are back visiting the wholesale markets in France and Spain respectively. As before, they can speak face-to-face with our customers to ensure they have exactly what they need from La Dona Fruit. Personal connections matter!
Throughout this pandemic, La Dona is proud to have continued supplying pineapples, limes and avocados. Yes, it's been challenging. But Thomas Connell, head of La Dona's European Sales and Distribution, has done a fantastic job of rallying the team to adapt and respond to the fast changing dynamics of the markets across Europe. We've even won new customers!
"At the start of the pandemic, every day felt like moving target," explains Tom. "Up until this point we had had repeat orders week by week. Suddenly, there was a huge shift towards retail, and away from wholesale because the hotels, bars and restaurants supplied by the foodservice operators were instructed to close. On the market there was huge demand, lots of undersupply, and a spike in pricing."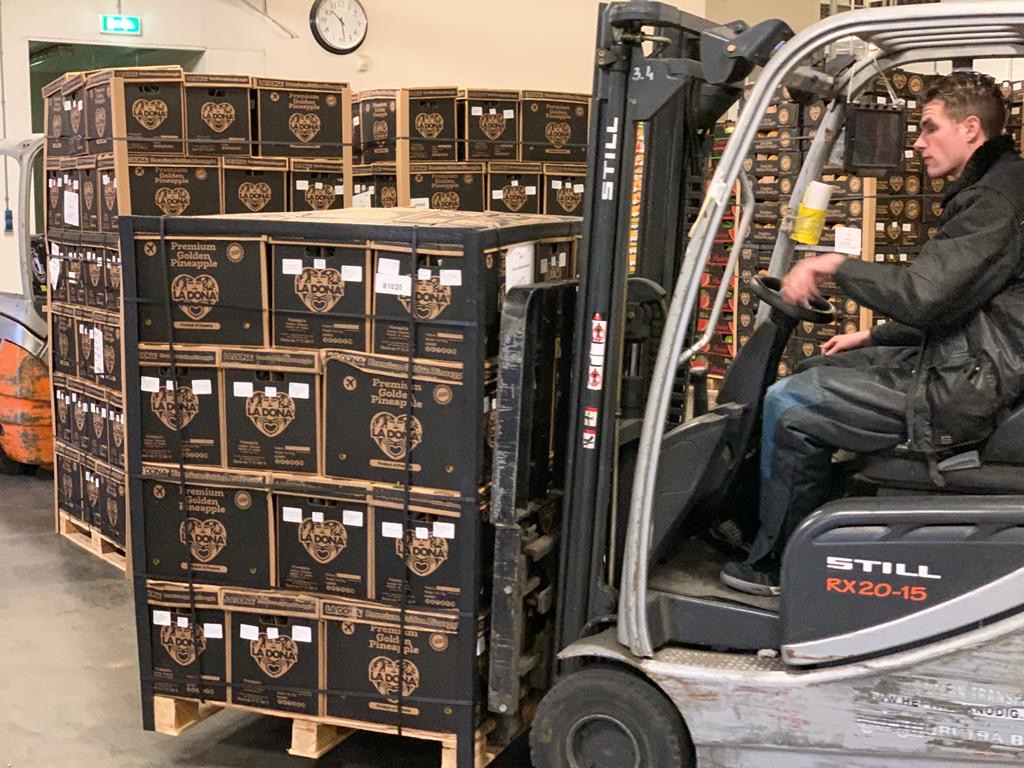 Fortunately, La Dona has a healthy balance of wholesale and retail customers which allowed us to pass through this period fairly unscathed. Likewise, seeing a clear pattern emerge from one European country to the next, starting with Italy where we have a major customer, was helpful in learning how to best respond. As such, our volume was unchanged, supply continued and customers remained happy. 
"All the markets stayed active; from Rungis in France, to Mercabarna and Mercamadrid in Spain, because they are important cogs in the produce supply chain," notes Tom. "At the same time, the foodservice companies were very quick to adjust. They started offering an online home delivery service, so we saw some movement back to the wholesale sector. Demand shifted from wholesale to retail, and back again. A major strength for La Dona has been our broad range of customers from wholesalers to retailers."
The distribution of fruit sizes was the one area where La Dona needed to make adjustments. Whereas the foodservice industry generally takes larger fruit, the retailers tend to prefer smaller sizes. "It's all been about communicating with our customers to determine what they need, and responding to that accordingly. La Dona supplies around 20 countries throughout Europe, and each country has different requirements in terms of fruit size and spec."
Now that bars and restaurants have re-opened in France, Spain, and Germany, albeit at a reduced capacity, the produce markets are stabilising, and pricing has been fairly stable too. Demand remains very strong across La Dona's three categories: pineapples, limes and avocados, including our Air Pineapple which sells at a premium. 
"Even though consumers aren't going out to restaurants, they still want to treat themselves at home," states Tom. "You might expect premium products to be the first to be affected, but actually it's been the opposite. And although the foodservice sector has been hit very hard, people are still eating popular products like limes and avocados at home."
As well as responding to a shifting marketplace, Tom and the team have worked hard to ensure the continuity of La Dona's supply from a logistical perspective. Almost overnight, Panama cancelled all commercial flights, meaning we had to move quickly to find cargo flights and humanitarian flights to maintain our airfreighted pineapple volume. We didn't miss a week in terms of being able to ship fruit!
"Every day it was a challenge to come up with solutions to keep things moving," Tom admits. "The airfreight price became very high at one point; going from US$1 per kilo to $1.78/kg. But we negotiated with the airlines to get that cost down. Now it's reached a manageable plateau. Currently, we have four weekly airfreight flights from Panama, although we'd like more than that because the demand is there."
For seafreight, Tom says the volume hasn't changed either. La Dona has continued to send two to three sea containers of fruit a week. "Across pineapples, limes and avocados we've been able to consistently match our volume with customer demand," he assures. "Luckily, La Dona is not a massive farm, so our exports have been manageable. That's been our ethos from the start; to focus on good growers, excellent quality and niche markets." 
La Dona is also very fortunate that Panama is an important and central logistical hub for Latin America. While other Latin American fruit-producing countries, like Costa Rica, Colombia and the Dominican Republic, have struggled to find air and sea routes, Panama is one of the only places where flights have remained active. As such, we've increased our customer base by up to 30%. Next, we're looking at acquiring certifications like Primus and SMETA to strengthen our European retail market appeal.
Before the pandemic, Tom was travelling two to three times per month to visit our warehouse in Rotterdam, the Netherlands, as well as the markets across Europe. Although he's unable to travel just yet (due to current UK quarantine rules) Tom is eager to get back on the road, especially as La Dona builds its avocado and lime supply, and focuses on additional markets like the UK, China and South Korea. 
Look out for more market updates soon!
– The La Dona family