Bonjour! It's been a long time coming but La Dona Fruit's Country Sales Manager for France, Marine-Alexandra Fuzier, is back visiting the wholesale markets where our fruit is sold. 
Following over three months of lockdown restrictions, last week Marine successfully made three trips to the renowned Rungis International Market, located just outside of Paris, France. Here, she fills us in on the latest market trends, plus her plans to visit further wholesale markets across France, as well as Italy. Formidable! 
"The last time I went to Rungis Market was just after the Fruit Logistica trade show back in February, so it felt really good to finally go back after so long," Marine explains. "I've missed the market visits a lot! The wholesalers are used to seeing their customers at least every two-to-three days. Fresh produce is a very personal trade! The feeling you get when you're with your customers, standing inside the market next to your fruit is incomparable. Having that in-person contact is tremendously important; it's not the same digitally." 
France is the largest market currently for La Dona's basket of fruits (pineapples, limes and avocados). At the moment, we supply mostly wholesalers located within the leading markets across the country. At Rungis alone, we have six to 10 solid customers; most of whom are regulars. Each customer is also exclusive per hall within this 10-hall market, which spans an enormous 234 hectares. La Dona's fruit is also sold at the wholesale markets in Lille, Rouen, Tours, Strasbourg, Nice, Lyon, Bordeaux, Toulouse, and Marseille. 
On visiting last Wednesday evening, as well as in the mornings of Thursday and Friday, Marine describes Rungis as pulsating with energy and a hugely positive vibe as customers and wholesalers were able to interact once again! 
Here's how a busy Rungis looked one sunny, early morning last week:
What's more, the market was a stunning rainbow of colours; brimming with summer fruits, such as: berries, cherries, peaches, and nectarines, as well as flowing with avocados. 
See the hive of activity for yourself:
Donning her obligatory face mask, Marine witnessed the arrival of La Dona's pineapples and Tahiti limes from our central warehouse in Rotterdam. For the last month or so, La Dona has been working with a storage company at Rungis called Mesguen, located at the heart of the market. 
Watch the video of Marine receiving our limes:
Watch the video of our pineapples being unloaded and checked:
Marine saw two of La Dona's key product lines sitting proudly on display at Rungis; our pineapples (both airfreight and seafreight) from Panama, and our limes from Colombia. 
"La Dona's pineapples looked great, and the wholesalers were very happy with the quality," Marine exclaims. "Everyone was saying that pineapples from La Dona Fruit are the best they've ever tasted for this super sweet variety [MD2] because of the sweetness of our fruit! 
"The only change we've needed to make is to send some less ripe pineapples. This is to allow customers more time to sell the fruit because it's summertime in France, and here consumers are accustomed to eating more seasonal and local fruit, like berries, rather than exotics. Whereas in winter one of our wholesale customers might sell five pallets of our pineapples, in summer they order only two. So, we're sending less mature fruit with a longer shelf-life, but not fruit that is too green or we'll lose our added value with this premium product."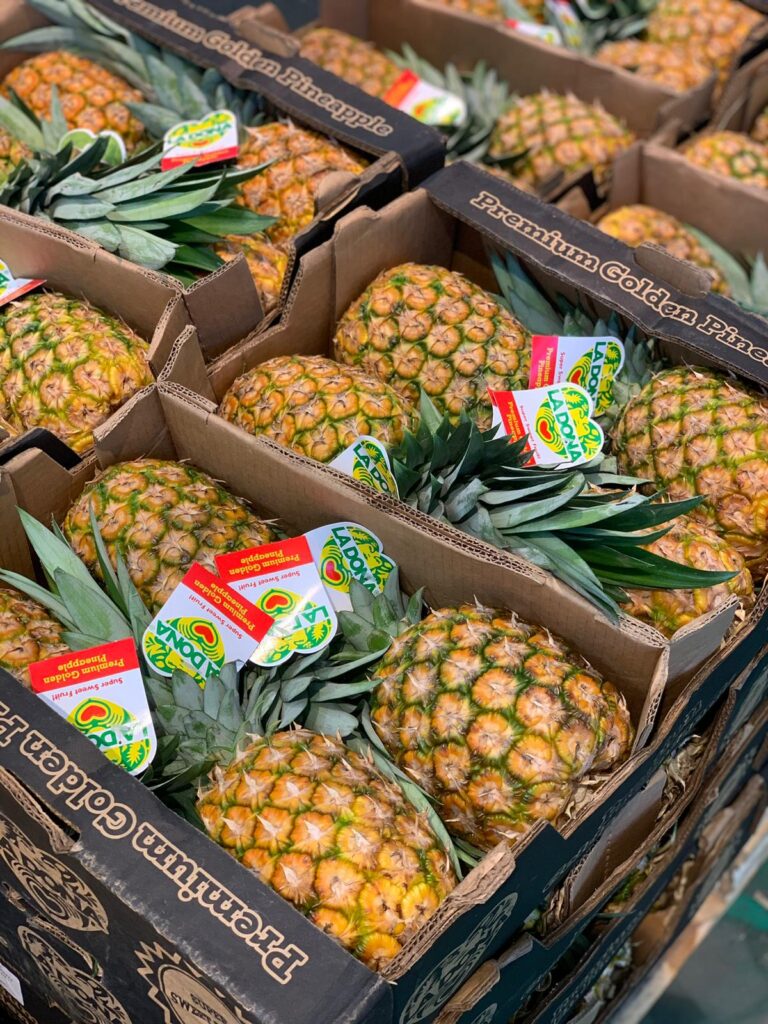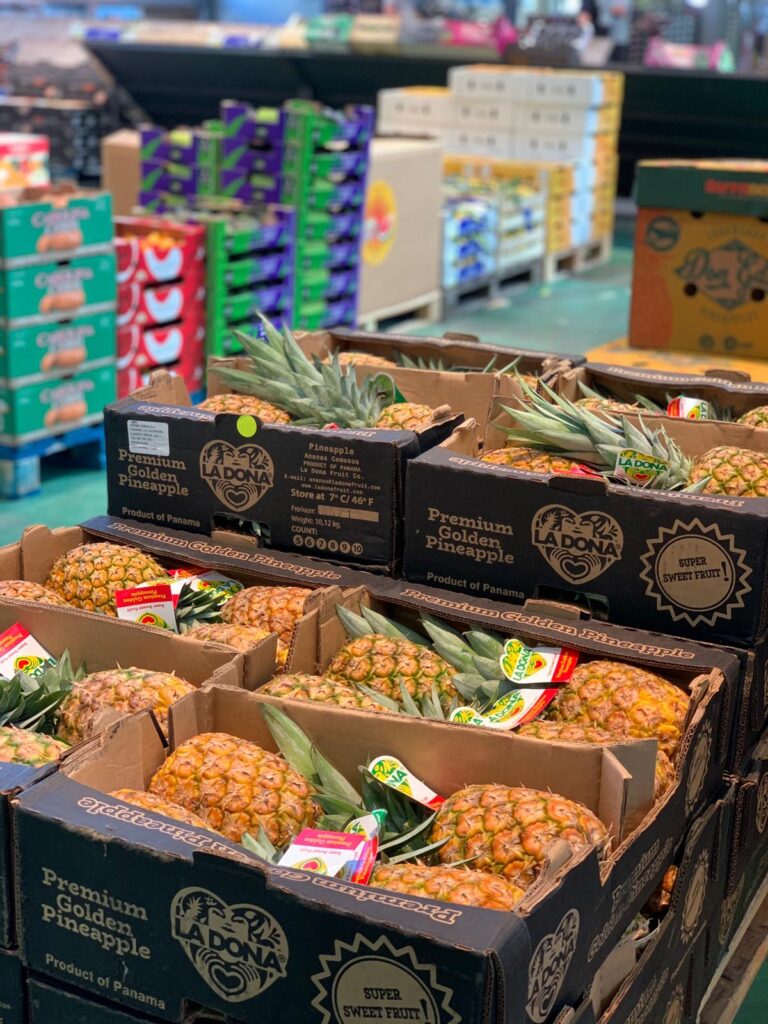 Here some of our pineapples are being boxed up for sale:
The Rungis wholesalers were also very pleased with the quality of La Dona's limes, exports of which launched at the end of May. Building on the excellent brand identity created around our flagship product (pineapples), we anticipate similar success with limes. Although Colombia is less well-known for its limes than the big exporters like Brazil or Mexico, there is definitely space on the market for this great quality product from La Dona.
"The wholesalers described La Dona's limes as being very juicy, and a very good quality product," Marine reveals. "The only feedback that I've made to our growers is that the wholesale markets prefer larger limes that are dark green in colour. Already, the farms in Colombia have started harvesting according to these specifications, plus the opening of La Dona's new lime packhouse will enable us to perfect the sizing and packing. We may also have some luck with organic limes, as this product is always in high demand!" 
As you read this post, Marine is already visiting two other wholesale markets in France, before heading over the border to Italy! There, she'll travel to the markets in Milan and Turin with Valentino Danza, La Dona Fruit's Country Sales Manager for Spain.
Keep your eyes peeled for updates from Marine and Valentino in the coming weeks. 
Bon voyage! ¡Buen Viaje!
– The La Dona Family